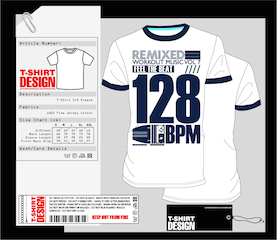 Whether you plan to order screen-printed t-shirts in the near future, or might some time down the line, there are important variables to consider in order to ensure high quality screen printed tees. Below are the types of shirt printing these elements apply to:
Tonal
Printing a design in darker and lighter shades of the shirt color is called tonal printing. By gearing the artwork for tonal printing you eliminate the need for an under base. It's part of the design to see some of the shirt showing through. The printer can create the stencil using finely woven screen mesh (fabric). By printing through a fine mesh, very little ink is transferred to the garment. The print will be super soft using the traditional plastisol ink.
Vintage
Vintage printing captures the look and feel of your favorite old t-shirt. Start with an athletic heather tri-blend or retro baseball raglan for a classic vintage look. Next, add some distress to your art. Request a soft-hand ink additive or even water-based ink. After the first wash, you won't even be able to feel the print!
White or Light
White or very light colored tees (pastel colors) are really the best choice for a bright print with a soft hand. The screen printer can create the stencil on a high mesh (fabric). This allows a minimal amount of ink to go on the shirt when printing, and the print colors will remain most true. Soft hand ink additives are an option for an even softer print, as well as water-based ink.
Discharge
Inks with soft hand additives and regular water-based inks are very transparent and do not print well on an under base, so how do you get a soft hand on dark tees? Discharge! Discharge ink is a kind of water based ink, but is formulated to bleach the t-shirt fabric while depositing pigment. It's really quite amazing! Take note that some fabric dye lots do not discharge well, and can end up leaving the inks with a tint of the shirt color.
The actual act of printing is key to a great print, however, artwork, t-shirt color and spe-cialty inks are also contributing factors to a great print. Be sure to discuss ink options with a screen print professional, and you are all set for some awesome retail quality screen printed t-shirts!