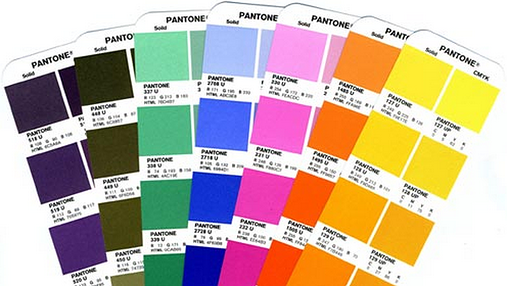 When you say red, you could mean any number of a gazillion shades. When you say red 485c, you mean one very specific shade. Pantone® colors are used to select and accurately communicate color in a variety of industries.
Every good screen print company uses an ink mixing system that corresponds with the Pantone® Matching System. However, despite the exact nature of Pantone® colors, what you see is not always what you will get when it comes to textile screen printing. This article covers some of the best practices for selecting Pantone® colors for use in apparel screen printing, and what you can expect from printed inks. No more surprises when you crack open that box of tees hot off the press.
Coated & Uncoated
Pantone® books for graphics come in coated and uncoated versions. These books show the ink formulas as printed on paper coated with a gloss type finish or uncoated, no finish. Textiles and t-shirts don't come in coated and uncoated versions as paper does, so what does this mean for screen print ink colors?
In general, C or coated colors are the best pick for screen printing. Standard plastisol screen print ink has a little shine by nature and tends to reflect the look of the coated Pantone® fan book. That being said, there are formulas for the uncoated Pantone® colors as well. The uncoated formulas tend to be more dull and more opaque than the coated colors when printed, although not quite as flat looking as the uncoated Pantone® fan book.
The Under Base Effect
Screen printing on dark or colored garments requires an under base so the ink can be seen. An under base is a layer of white ink printed before the design colors are printed. Without an under base, ink colors are absorbed by the garment or noticeably altered by the garment color.
Some Pantone® colors can be printed with no under base. Depending on the color of the garment and the ink color, the Pantone® may remain true. In most cases, however, the garment color will affect the ink color. All screen printing inks have a degree of transparency. A white under base has a tendency to lighten the ink printed over it. The more transparent an ink color is, the more it will lighten on an under base.
When working with your screen printer, make sure to give them the pantone you want them to match, that way they can pick the best ink for the job. Happy screen printing!