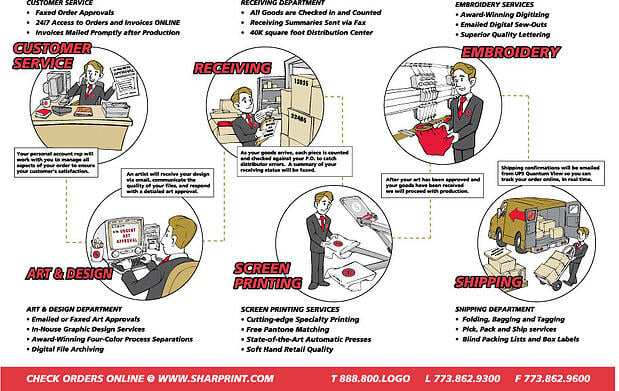 There are numerous variables that go into placing, producing, and delivering a custom decorated textile order. A tight and organized process is key in making sure the decoration order goes off without a hitch and keeping you informed along the way. This process illustration details the key points we focused on back in 2005. And guess what? These key points are executed in 4 simple steps every day, to this very day - to get your order out on time and correctly.
1. Order Approval
Once you and your Sharprint rep have gone through the process of quoting and have nailed down the who, what, when, where, and how of your order; you will receive an order approval with the technical details of your order. This is to make sure our understanding or the order is the same as your intention.
2. Art Approval
First time screen print and digital print orders will be mocked-up and proofed digitally. This is designed to confirm color, size, placement - all the visual details of the decoration. For first time embroidery orders, you will receive a digital sew out to review to make sure everything is correct. Be sure to review each detail carefully for correctness. The production department follows this proof for production.
3. Receiving Check-In
We check in each and every garment that comes in. We make sure the quantities exactly match your order and check the garments for any manufacturer quality defects.
4. Tracking
Whether we're shipping your finished product to you or another address, we'll email tracking as soon as it leaves the building. You never have to wonder when it will arrive.

Despite all of the new technologies, advances, and improvements the industry has made, our main concern is the same: being the most skilled, reliable and resourceful decorator for you and your business.