Fall has quickly come upon us and that simply means that fashion's hottest season is here, so this is definitely time to celebrate!! Whip out the boots, capes, capelets, hats, gloves and everything that makes dressing for brisk weather so enjoyable. Fall fashion this year is very wearable; Figure flattering pieces in colors that suit nearly all are eye catching, edgy and demanding of attention in a good way. Welcome to Fall's hottest fashion for 2013.
Winter White
They say wearing white after labor day is a fashion faux pas, but that is not the case when it comes to this shade of white. Winter white is just that- an off shade of white that is warm and inviting and also very classic. Any woman or man can look amazing decked out in monochromatic shades of winter white for a dramatic appeal, or just paired with various pop colors, like bright yellow, green, red or basic black or shades of grey.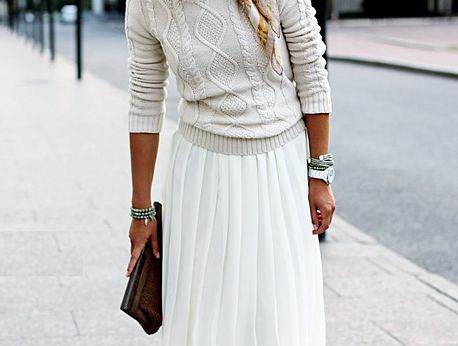 Classic Patterns that we Can All Wear
We've seen a lot of new age, funky and retro prints hit us over the past few fashion seasons, but for this fall, it's back to the basics in many ways. Plaids, pinstripes and houndstooth prints were all over the runway and done in various colors and styles. Animal prints are a new mainstay and are carrying over from summer, to spring fall and back into winter. One might say they are here to stay for fall clothing trends and beyond, just redone in various fabrications.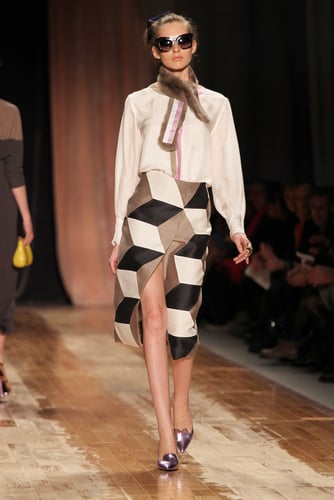 Military Style
This has been a common trend that has sporadically shown up over the last few fall seasons and some designers seem to prefer the look in their cold weather lines, but military meets chic is the new common denominator across the board. Updated styling like adding peplum, slender, figure flattering fits, mixed fabrications (wovens and knits paired) and bias cuts add a flair of trendy chic while still being strikingly edgy in style.
Over the Knee Boots
Gorgeously designed over the knee boots hit the runways hard and now they're in stores and online everywhere. What's the new passion with these boots? Well, they're not exactly "Pretty Woman" attire. These boots have been showcased in high end, soft leathers in warm and easy to wear colors. Edgy, sexy, yet tough and even classy, over the knee boots can transform an outfit to an entirely new level. Try them with skinny jeans and a chunky sweater and watch how the entire look is revamped. Don't worry- if you're scared about the level of commitment to these types of boots, you can always wear a cute ankle bootie with some leather or leather look leggings. No one will tell the difference since the overall effect will be the same. Don't worry, we can keep a secret if you can.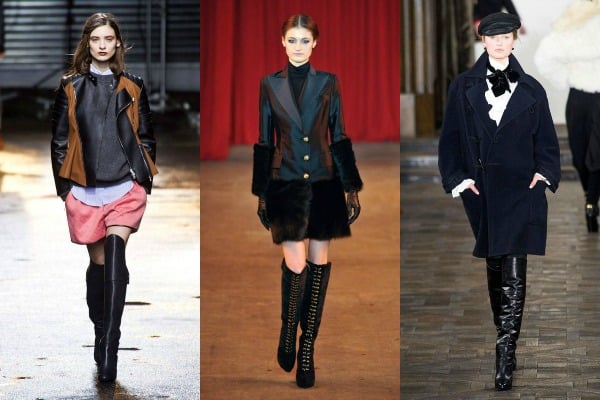 Green for Everyone
So, if you didn't know by now, Pantone officially announced the color emerald as "the" fashion color of the year 2013. However, for fall clothing trends this season, there is a shade of green for everyone. From army green to money green, sporting this power shade is what's in. Find the shade and tone that work for your hair and skin color and matches your unique and personal sense of style.

Fashion trends are ever changing and remember, runway looks can be completely transformed when they are styled and accessorized differently. Fashion is an attitude- fashion is a way of life and a method of showcasing your personality, so make the trend yours and don't be afraid to think outside of the box when it comes to what and how you wear fall's fashion.