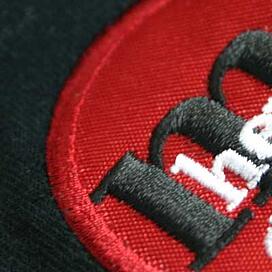 With today's technology, specialized software is able to translate artwork files into embroidered stitches. Embroidery has many specialties, some including: superior quality lettering, gradient, textured, puff, and applique. Whether its artsy embroidered textures, whimsical block lettering or traditional applique, embroidered uniforms look sharp, impress, and payoff.
Logos can raise the cost of embroidered uniforms, but the power of branding is well known to marketers. An easily recognizable logo may be all that is needed on a uniform. Not only will workers be immediately identifiable to customers, but employees can also instantly recognize each other when working in crowded conditions.
When considering fabrics for the uniforms, select colors that either match or compliment the logo. For best results, the thread colors should contrast or standout against the background fabric. If the logo is simple and bold, select a vibrant color to set it off. Likewise, white or other light colors will help a more intricate design stand out. If text will be used, be sure not to choose a fabric color that will make it difficult to read.
Another thing to think about when designing an embroidered uniform and choosing colors, is whether the color scheme has widespread, common associations. Certain color combinations could trigger associations to sports teams, brands or even political affiliations, which could be detrimental if unintentional. Also consider what type of fiber will be used. Embroidered designs can look very different when sewn onto cotton, bamboo, polyester or nylon fabric.
And finally, keep in mind the overall purpose of the uniform. It is easy to get carried away in the creative flow and lose sight of the obvious. For example, the company logo may look fabulously, classy on black nylon, but it may not be practical for a crew working outdoors in hot climates. Humor aside; remember to exercise common sense when ordering embroidered uniforms.
Of course, our embroidery team is fantastic and ready to respond to your needs regarding design choices, thread options, pricing or any other questions you may have.