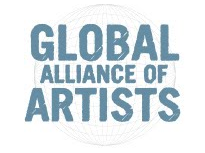 A study conducted by the Field Museum in 2008 identified the arts as "fundamental ways through which people connect to issues of all kinds, including the natural environment." Art is a great medium for communication and communication is key in correcting and improving environmental conditions on the decline.
Global Alliance of Artists, Inc or "GAA" is committed to solving social and environmental challenges on a local, national and international level by leveraging artists and creativity inherent in communities. Artists are too often marginalized in mainstream society when in fact, their visionary outlook should be applied.
How do artists connect with the causes they care about to collaborate on solutions? How do environmental and social organizations inject creativity and communication into their missions? GAA has created an online forum to connect artists and environmental organizations known as the Environment Xchange. Program manager, Catherine Game states, ""The Xchange is a tremendous example of the potential for collaboration across art and environment disciplines. In less than a year, over 70 artists and organization members have joined the Xchange and are taking action to improve our region's future."
Members are notified of environmentally based art shows and opportunities for participation in clean-ups, actions, and project planning. A resource center for products, methods, and industry specific best practices for environmentally safe business. You really should check out their member blog - the work is really amazing and inspiring!
The awesome thing is that the Xchange is open to anyone interested in getting involved with preservation and improvement of our community and the world. It's easy to get involved and even easier to join the conversation. If you are not an artist or an organization, simply email ChicagoXchange@gmail.com.