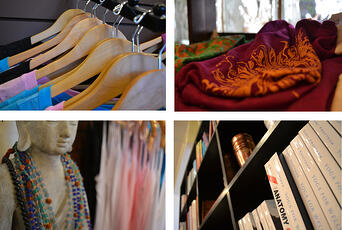 Retail areas in yoga studios are becoming the norm. Studios are making it convenient for yoga practitioners to get props like straps, blocks, mats, and - you guessed it - yoga clothes! American yogis spend over 5.7 million dollars a year on classes and products. For most studios that have a retail area, it accounts for 10-20% of overall sales. T-shirts and practice clothes with your studio's name and/or logo on them can be great for promotion and additional studio revenue, however keeping the retail area profitable does take a little business savvy.
Starting Out. Notice what the students wear and use. Have they asked you for recommendations on places to get props or apparel? These are indicators of what people will actually buy. It's a good idea to use half of the profit generated through sales to replenish stock.
Branding. By customizing products like water bottles, t-shirts, and towels with your logo, students and teachers carry your name wherever they go outside of the studio. Yogis are usually pretty excited to talk about their yoga, practice, and studio. Promotional items are great conversation starters.
Be Unique. If you try to sell clothes or books available at a major chain, like Target or Amazon, the students may go the more economical route. Keep your eye out for styles and products that are cool, unique, and are not readily available elsewhere.
Numbers. Look at sales reports at least monthly. You want to keep your retail items circulating, so if something isn't selling, don't be afraid to mark it down. Standard retail mark up is 100%, so even if you discount half off, you won't be losing money.
Display. Properly lit, well organized displays are a must. People are naturally drawn to product that looks good.
For more info and an indepth look at yoga studio retail, check out this very informative article in Yoga Journal. Studio retail area photos are taken from Moksha Yoga Center in Chicago.
Namaste!