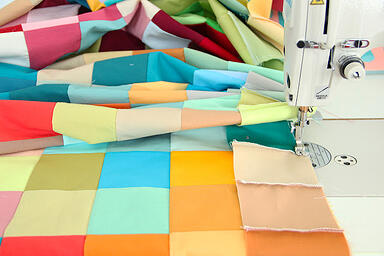 If you aren't familiar with the work of Julie Pinzur or Mokuyobi Threads, it's likely you will be in the near future. We scored an interview with Julie, founder of Mokuyobi Threads, to gain some insight into how she thinks and works. Her creations are clever and bright, refreshing and completely original. Go figure - so is she.
Sharprint: What is Mokuyobi Threads? Can you give us some history? How'd you get started and how have things evolved?

Julie Pinzur: Mokuyobi Threads is a bags and clothing company that provides general radness for the Super Beings of Earth and Beyond. We got started in 2006 when I realized there's nothing else I'd rather do besides make awesome useful products and supply them to the world. The goals have stayed the same but we certainly have evolved. Along the way I learned a lot about the industry, manufacturing, pricing, and all the things you need to consider when designing and marketing a product. I didn't really have any idea what I was getting myself into when I started but I'm glad that I did. Thanks 18 year old me.

S: What gets you excited? What inspires you?

JP: I get excited by new construction. I try to look at certain markets and find holes in them and then design products that fill those holes. I'm super inspired by clothing designers, illustrators, and anyone who's creating visual work that stands out or has a fun and unique style.

S: What are your thoughts on fashion in general? How do you approach clothing design? Can you tell us more about your work in particular?

JP: After taking a bunch of fashion classes at Parsons the New School for Design I realized that even though the construction is standard for whatever kind of item you're sewing, the mindset is certainly different for high fashion in New York City. I tend to lean towards street style/casual fashion/costume-y clothing in my work although high fashion can be very inspiring at times if you take certain elements from it. A lot of what I like to do in clothing design is to play with the body as a canvas for wearable illustration. Some examples of things I've done are a dress that looks like a birthday cake, a hot air balloon landscape dress, and a robot dress with matching hooded sweatshirt.

S: What's your approach to graphic design? How does it differ from your 3-D work like plushies, backpacks, clothes, etc?

JP: People experience 2-D work and 3-D work differently so you have to approach it a little differently. I feel that in 3-D plush work there's so much more to play with that makes the work more of an experience. Texture and physical presence are 2 things that you can't communicate with in 2-D design. Plush work is also more about the object and less about the construction. In clothing design and bag design what makes the product interesting is the way it's made. How a normal t-shirt is made is pretty basic. Once you start experimenting with ways the product can hold objects, be taken on and off, and how it can transform itself in new ways is when you've created something interesting.

S: What's a typical day like for you?

JP: I work from home so pretty much everyday I wake up and get to work immediately. I love not having to commute or get ready in the morning, it leaves more time for working! It also takes a bit of self motivation because no imminent pressure is keeping you from hitting the snooze button a few more times. Depending on what stage of a project I'm on usually sets the tone for what kind of thing I'm doing. It's mostly a mix of designing/cutting/sewing samples and new product ideas for product development or sitting in front of the computer once I have a more concrete product to source, market, or sell it. And of course answer tons of emails just like everyone else. I usually work 10-14 hours a day which is easy most of the time because I'm doing what I love, but I get stressed out too.

S: What has been the most incredible experience in your life so far?

JP: Being able to wake up everyday and do exactly what I want. There's nothing better than that. I also have to reach out a lot for marketing to connect with new stores or to find models to showcase my stuff so I get to meet a lot of new people who are most of the time creatively driven like me. That's always a lot of fun.

S: What advise would you give to aspiring artists / designers? If you could do one thing differently, what would it be?

JP: Everyone says that what you do to procrastinate/for fun is what you should make your career out of and it's true but it isn't easy. The best advice I can give is to keep making things. Make something every week and tell the internet about it. If you're passionate enough and you work hard enough it will pay off. If I could do one thing differently it would probably be to work more, haha. I'm a bit of a workaholic and sometimes I get angry at my past self for not working hard enough but you gotta live your life too.
Thanks so much, Julie for taking the time to answer some questions for us! Be sure to check out Zipper Teeth for behind a behind the scenes look at Mokuyobi Threads and see how it's done.