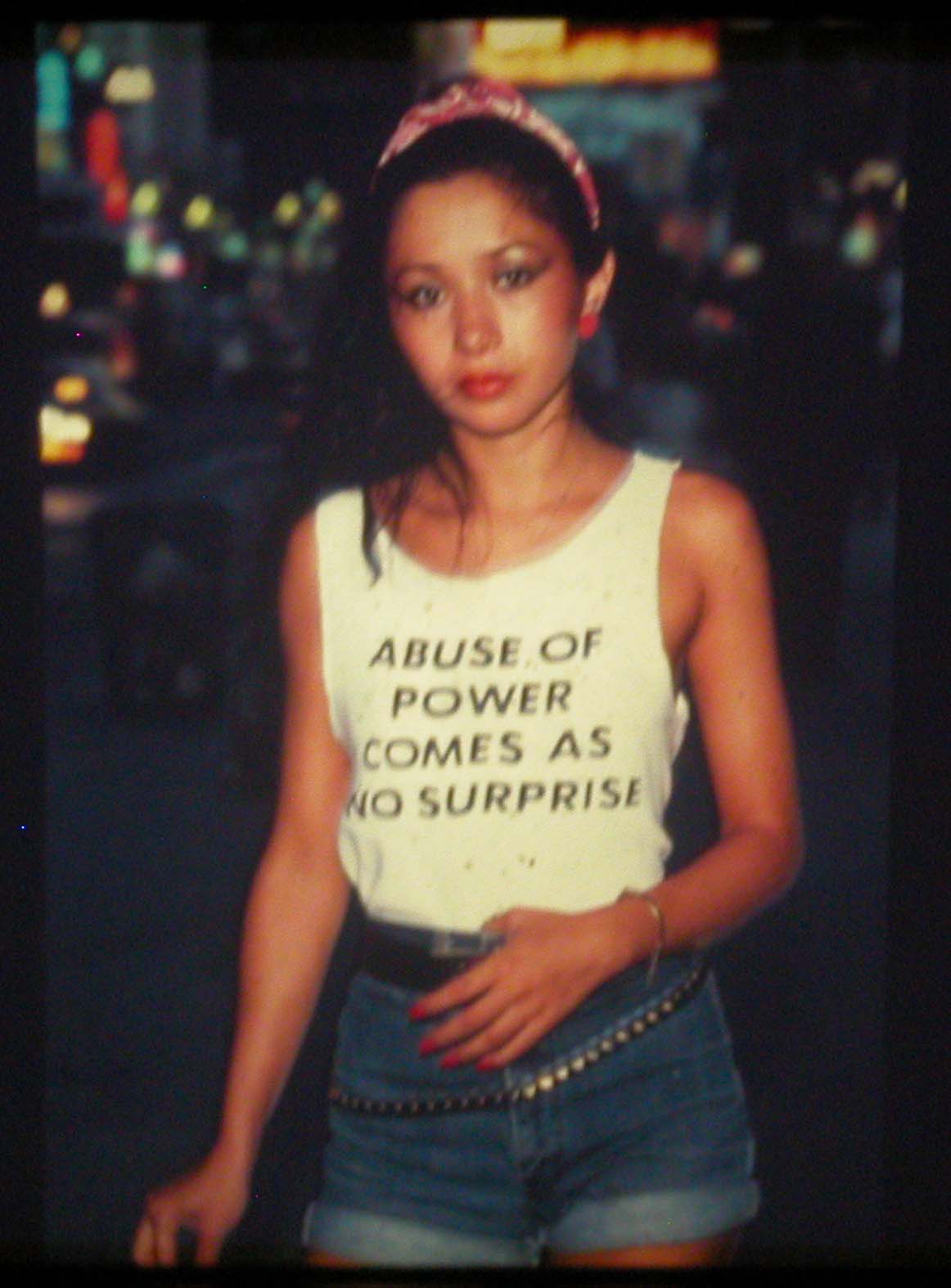 Jenny Holzer is one of the icons of Post-Modern art. Since the 1970s, Holzer has been working in an unconventional medium, text. If one wasn't familiar with Post-Modern art, he/she could easily see one of her works and not recognize it as art. Her works take form on virtually every substrate imaginable, everything from marques to condoms and from projections on the facades of high rise buildings to simple printed books. One of her mediums she's been known to employ over the years to proliferate her subversive messages is the tee shirt.
Holzer is most known for one liner-like statements that are meant to elicit debate internal or otherwise. These texts are generally presented in very simple sans serif font in simple colors (usually white on black or vice versa). They are almost always level, no dressing, and at their most indulgent, scroll across an LED screen or the like. Her tees are in this vein.
Most famously, her shirt with the message "ABUSE OF POWER COMES AS NO SURPRISE" confronts passer-byes with a simple, one line message that does not point fingers, but prompts the viewer to do so. What is unique about the screen printed tee shirt as opposed to Holzer's other mediums, is that the statement's voice transfers from the artist to the wearer of the shirt (known or anonymous coupled with- female/white/26/punk rocker, black/male/54/businessman, Asian/girl/6/wealthy, etc).
This voice change serves to further compound the viewer's response. If seen on a gallery wall, the viewer would consider who's power is being spoken of from any context known or presented by or of the creator and their own preconceived notions. Seen on a person, the statement is seen as if spoken by the wearer and the "Abuse" is directed at or affecting the wearer first and not the creator or the potential subject implied by the statement. Wearing this art effectively obliterates the artist's voice, transferring the statement's origin to the wearer, who determines the context in which the statement is translated.