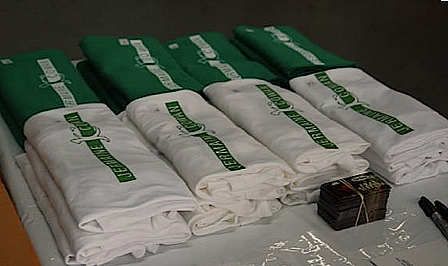 Custom clothing is a great tool for promoting any business. There are lots of creative ways that this marketing tool can be used. Here are just a few options to get the brainstorming process started. Building on these will create lots of unique marketing strategies that will help to reach a new and diverse audience.
Offer Freebies
Everyone loves something free. Providing free promotional clothing can help to reach a vast new audience. Check local calendars to find the right event for this kind of giveaway. Some possibilities to consider include:
Local fairs
Trade shows
Conferences
Concerts
Charity events
Marathons
Booths are often available for rent at events like these. Set up a booth and offer information, refreshments, demonstrations, and free apparel. Hats or t-shirts are a versatile item that most everyone can use. If a limited budget makes this kind of promotion unrealistic, try using a raffle or contest and offer custom clothing to the winners.
When it comes to charity events, the best way to provide custom clothing with a promotional slant is to participate in funding the event. This will serve several important marketing purposes. Companies who regularly participate in charity work have a very favorable public image.
Get Involved Locally
Charity events aren't the only option for getting involved with local happenings. A company sports team is another great way to make new connections. Join a softball league, bowling league, or basketball team. Runners and even walkers can form a team for a marathon. Outfit any participating employees with custom clothing. Caps and tees are perfect for a variety of sporting events.
Fans of these recreational sports teams may want a way to show their pride as well. Design a second line of promotional shirts just for families. These will show up at games, but will also become a regular part of the recipient's wardrobe, acting as a walking billboard every time the hat, shirt, or jacket is worn. Special shirts to celebrate the end of the season are an option as well. Employees who wear promotional clothing are well equipped to share information about the company when passers-by notice the logo or design.
Offer Customer Gifts
Reward loyal customers with custom clothing that includes the company logo or another promotional print related to the business. Some ideas for rewarding customers include the following.
Give restaurant diners a punch card and provide a free tee shirt on their tenth visit
Host a special restaurant challenge where diners can earn a special shirt for eating an extra large steak or other jumbo sized item
Pop a trivia question to shoppers and give tee shirts or hats to the first people to hit the registers with the correct answer
Award special custom clothing to the 100th shopper every week or month
Provide a free item with large orders
There are lots of different options for this type of promotion. Nearly any item will work. Choose a piece of custom clothing that will connect with the right target audience. Business professionals will appreciate a polo, customers at a gourmet cooking store will love a new apron, and sports fans can always use a new ball cap to shade their eyes from the sun. Know the audience and plan accordingly.
Custom clothing is an effective promotional tool because it will be seen everywhere that the wearer goes. The right tee will go to school, out shopping, and even on vacation. Be sure to include a web site address or other contact information on all promotional items so it's easy for curious passers-by to learn more and potentially become new customers.