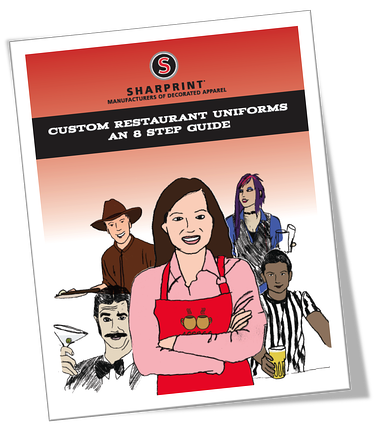 Restaurant uniforms can be a great tool for making a business look and feel more professional. When patrons come into a restaurant, they want to observe a sense of order and cleanliness. Dressing employees appropriately in matching uniforms will have a big impact on the tone that diners perceive. Take the following factors into consideration when choosing your restaurant uniforms.
1. Style
There are lots of different styles to choose from with restaurant uniforms. In a casual barbecue joint, screen printed tee shirts will suit the atmosphere very well. At a formal restaurant, it's better to choose polos or button-down shirts for waiters and staff.

Make sure that the attire suits the overall style. Don't have the staff dressed down when guests traditionally wear business attire to eat in the restaurant, and also avoid creating a stuffy environment in a dining room where guests are meant to come as they are and enjoy a good burger.
2. Images
Choose imagery for staff uniforms very carefully. If there's a logo for the restaurant, this could be the perfect feature to have embroidered in the corner of a polo shirt. Large graphics across the front or back of a tee shirt may work, but this tactic should be used carefully. Most diners prefer to see clothing that looks clean and simple within their dining environment.

Avoid at all costs any design that looks like spilled food or dirt. An air of cleanliness is always important in a restaurant, even a casual wing joint where the diners need wet wipes to clean themselves off.
3. Text
Restaurant attire should have the name of the restaurant on it somewhere. Shirts shouldn't be interchangeable with the coffee place across the street. Graphics are good but including the name of the restaurant in print is important, too. Consider adding a slogan for more impact.
4. Color
Never underestimate the power of color. Marketing professionals are quick to explain the importance of different hues. Red and orange are known to stimulate the appetite and promote excitement. Yellow is associated with creativity, but needs to be used sparingly or it will cause anxiety. Green is associated with natural elements. In the restaurant industry, this is associated with eco-friendly practices, healthy dishes, and natural, home-grown ingredients. White is associated with purity and cleanliness.
Red and yellow are common in fast food restaurants or casual dining establishments. Changed to a deep scarlet and gold, this same hunger-inducing palette can transfer to a more upscale establishment. White is excellent in moderation, but be weary of using it where it will stain.
5. Function
Always consider what the staff will be doing in their uniforms. If they're preparing food, include an apron to keep the shirt underneath clean. Provide extra aprons so that soiled ones can be switched out immediately. Stains are inevitable but no one wants to see them on their servers. Hostesses can wear nicer attire since they have fewer opportunities for spills and stains.
The kitchen staff will need clothing that's suitable for cooking. Avoid long sleeves in this hot environment and stick to options that are more fitted. Flowing garments can catch on fire and trip up the hardworking kitchen staff while they're moving around in a hurry.
6. Cleanliness
Restaurant uniforms should always look crisp and clean. Avoid materials that will wrinkle unless the restaurant plans to offer complimentary laundering services. When uniforms are issued, make sure a strict dress code is set with them. Polos should be tucked in. Belts need to be worn to keep pants at the right level. Shirts should be fitted properly.

A size chart will be available from the manufacturer when the restaurant uniforms are ordered. Make sure that employees order the right sized garments. Shirts that are too tight or too loose will look sloppy and inappropriate for a dining establishment.
7. Variations
Restaurants with a casual atmosphere can offer several variations of their restaurant uniforms. Create two or three styles with different logos or designs and allow the staff to pick their favorite. Special shirts also work well for special events. Restaurants that cater may want a different uniform for catering corporate events than what they would use to cater a birthday party. Small changes, such as a polo instead of a tee shirt, can make a big difference.
The right restaurant uniforms are a blend of professionalism, cleanliness, and corporate image. Combine the colors and logos that set the restaurant apart from competitors with time-tested standards of clean lines and well-pressed shirts for a winning combination.