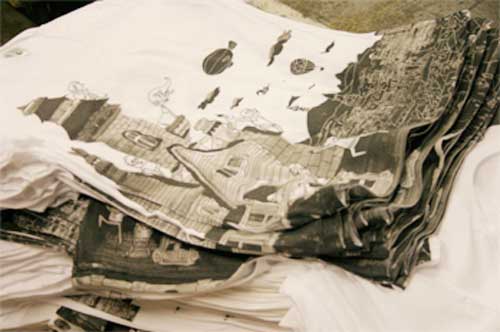 An easy way to add instant value and eye-popping appeal to a t-shirt is to print an all-over design. You've seen this technique employed numerous times in the marketplace. Rock bands, zoos, sports teams and big box retailers all use hip designers to create background textures to create visual interest for the shirt. A simple one or two color all-over print can spice up the shirt so dramatically, that the main elemental logo or design doesn't need to be too elaborate to sell.
All-over printing only a few years ago was only accomplished by using expensive "belt-printers". This was specialized equipment used for printing huge designs on t-shirts, but the machinery was so expensive only a few printers in the country used them. Today, refinements in printing technology make this technique possible on normal t-shirt printing presses by exchanging some press components and incorporating correctly built artwork. However, there still is a craftsmanship element needed to utilize this technique correctly, so be sure to discuss your needs with your decoration representative.
The main point of an all-over print is to visually spread the design elements throughout the shirt with a single print stroke on the press. This can just be textural – to add some visual "noise" to the shirt, or actual representational graphics. Another common theme is to repeat the main element in a tonal subdued manner to add some visual flair to the design. Listed below are some good starting points to consider for employing an all-over print for your next t-shirt order.
Use tonal elements to create interest. For example, printing your all-over design a shade or two lighter or darker than the shirt color will provide a good solid base to use for the main graphic. Think about using burgundy ink over a red shirt; or a light grey over white, for instance.
Think directional, as your background print can lead the eye. Maybe all elements of your all-over print point towards your main image. Maybe the elements swirl out from the main image. The placement and organization of the background can be a great influence to the rest of the shirt design. Have fun and play with some directional ideas!
Distressed graphics work best. Because the all-over print is going down over seams, collars and folds in the shirt there is going to be areas where the ink doesn't print, puddles a little or looks less than perfect. Take advantage of this fact and create your all-over print to naturally incorporate these elements to disguise any production challenges. Besides, distressed graphics are hugely popular too.
Design elements arranged in a random pattern can be an effective tool as mixing and matching different items to form the background base can really play up the main image. For example, let's say you are printing a shirt for a fishing tournament. The all-over print background would incorporate common graphic elements such as lures, hooks, bait, knives, bobbers, fish, nets, boats, motors, etc. These elements could be arranged to form a visually interesting background that the main design will print as a second location.
Create a pattern or grid for the main image. You can also "fake" the look of using a cut-and-sew fabric for the shirt by replicating the look with an all-over print. Plaids, paisley, checkerboard, stripes, dots, repeated company logos, symbols, etc. can all be used to simulate the look of a patterned shirt.
Your all-over print doesn't have to be "all over". This means that you could incorporate visual negative space around certain areas, or maybe the graphic is only on the top of the shirt and not the bottom. Leaving certain areas blank can be a great method of ensuring visual interest, as if the rest of the shirt contains busy elements the visual focus may be on the area that has some natural white space around it. Incorporating negative space can be really powerful if used correctly, and here's where having a professional designer is really helpful.
Enlarge small elements in your main design to print huge as a background element. This can be done effectively with type too. Portions of the image could run off the shirt, and maybe even be hard to realize what the image is supposed to be. You are shooting for visual interest, and to support the main graphic. For example, for that same fishing tournament we could enlarge an illustration of the fish from the main logo 300-400% and make it a tonal one color element in the background. Maybe the tail or one of the fins would print off of the bottom and the sides of the shirt. However, when someone wears the shirt the huge fish in the background will really add interest and key visual support to the tournament logo that printed over it. This is how you stand out from the crowd!
Hopefully these tips have sparked some ideas for your next t-shirt project to use all-over printing to add value and interest. Break out of the rut of just printing your graphic on the front and back of the t-shirt!! Use an all-over print to spice up your order and increase sales.