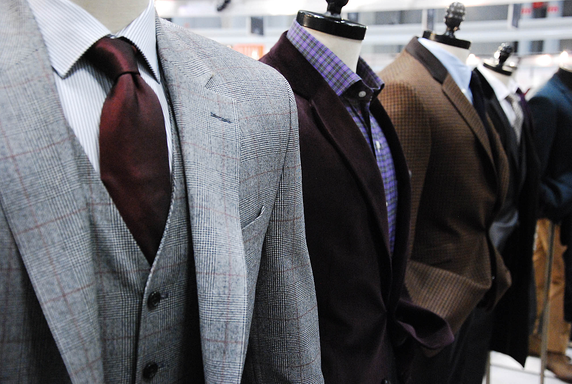 Based on a survey of over 1000 responses conducted by Boston Consulting Group in September 2012, national economics and patriotism are deciding factors for apparel purchases. American job creation and quality standards attributed to American craftsmanship are revealed as the top two reasons consumers are seeking out American made apparel.A lighter carbon footprint is a pro for the American manufacturing camp regarding environmental impact. It seems American apparel manufacturing is a win for the country all around–consumers, entrepreneurs, retailers and factories, so why isn't American manufacturing of apparel making a bigger comeback?
The economic downturn occurring over the past decade spurred an exodus from domestic manufacturing to keep production costs as low as possible. Allen Edmonds—a Wisconsin based shoe-maker— CEO, Paul Grangaard explains, "Domestic labor costs are harder to manage than ever, due to the combination of wages, 401(k) contributions, and ever-increasing healthcare costs." The move from domestic to foreign manufacturing, or vice versa, is costly, requires careful strategic planning and doesn't happen overnight.
It is understandable that many businesses are hesitant to do so when consumers are just beginning to show a commitment to purchasing American made products. Is the demand for American made products simply a reflection of the current economic climate? Frank Clegg Leatherworks has been in business since 1970, and Frank's experience justifies the hesitation to return to domestic manufacturing. "I've seen this trend come and go three or four times now, but it was the gradual move to making stuff abroad that had me near closing.
I have a lot of friends who used to be in the industry too, but most of them are out of business now...Right now people want made in America because of the economy, but marketing is a big element of it also. When the economy is strong, people stop paying so much attention to where the things they buy are made."

The overall pros and cons may be fairly simple to list out, but determining whether it is really smarter to manufacture in America or abroad is not as cut and dry. Robert Talbott president, Bob Corliss, explains that on the surface it's less expensive to manufacture in Asia, but it's more of a management challenge. "You have to commit to a certain number of finished goods well in advance, provide capital up front, and rely on someone with whom you don't have supply-chain visibility every single day.
Is going overseas cheaper from an input perspective of dollars and cents? Yes, but when you look at it from an output point of view, does being made in the U.S. have added pull? I think the answer is yes. Our overall direction is to come back." It's worth noting that Robert Talbott outsources certain items to factories in Canada, Europe and Asia. Much of its line is manufactured in its Monterery, CA factory, which is operating under capacity.

While Robert Talbott manufactures Robert Talbott products, entrepreneurs and start up apparel businesses are challenged to find enough American manufacturing capacity to meet the demand for their product, let alone grow a business. There are not a lot of apparel manufacturers left in the United States since the exodus to foreign manufacturing over the past decade and the ones that exist are booked solid. For example, Randolph Ashton, founder of Collared Greens in 2008, has a fixed amount of production time with his polo shirt maker based in South Carolina. "And once we tap that we're out of luck for the remainder of the year," states Ashton.
For some brands, like Collared Greens, production outside of America is not even an option. American made is part of their mission and is the foundation of the company's identity. The ability to manufacture in the U.S. can determine the success or failure of a brand.

This lack of production capacity is part of the ripple effect caused by America's shift to foreign manufacturing. The steady loss of manufacturing jobs in the U.S. lead workers to acquire other, more marketable skills. Since there was little demand for the apparel industry skill set, the workforce has not replenished. A good example of this is Ike Behar, who has experienced a 20% growth in its custom shirt program, with a Miami factory staffed by aging workers—many nearing retirement.
Company president, Alan Behar, explains, "It's harder and harder to manufacture in the U.S. because of the workforce. The skill set for the needle arts for the next generation doesn't exist. You need people who know how to function as tailors, seamstresses, to operate sophisticated sewing machines, and to cut by hand."

One solution to the lack of skilled workers is developing skill specific training programs. H.Freeman, based in Maryland, may be America's oldest tailored clothing facility dating back to 1885. Representative Ralph Brummet touches on the secret to H.Freeman's longevity, "We have a strong training program and we've set up a school." However, a training program can be a challenge in itself. Lotuff Leather is a factory that currently has 10 workers able to make 50 leather bags per week—not enough to meet demand. For now, co-owner Joe Lotuff and his partner are cutting all the leather themselves while training apprentices in the craft.
The potential for loss is great with inexperience, "...imagine having a neophyte cut 300 feet of beautiful leather and none of it is usable because there's a flaw on every piece." Finding the right fit is crucial to delivering the American craftsmanship that has become legendary, "With so many people out of work, when you place an ad you can imagine all the types of applicants you get. We look at 10 people and hire one if we're lucky, and he may or may not last."

Speed-to-market flexibility makes another strong case for building up American manufacturing capability, especially for younger fashion brands and entrepreneurs. Agave Denim founder, Jeff Shafer, talks about the importance of manufacturing in Los Angeles in relation to the fast-moving women's contemporary market. "I can see something and technically ship it 60 days from now, so I can respond to trends and consumer preferences and not have to make a nine-month, up front commitment." He goes on to make another great point, "Also, I know what the value of my dollar is nine months from now, but not in China."

It seems that real success in American manufacturing can only occur if it is supported culturally inside and among companies and their communities. Brett Schenck of Hart Schaffner Marx (another company that dates to the 1880s and still supports 1300 employees across two Chicago-area factories) says, "Made in America may have become cool and hip these past few years, but for us, it's always been cool: it's our entire culture." Tony Sapienza of J.A. Apparel (New Bedford, Massachusetts) admits that their 530 workers are getting older, but says they have no trouble recruiting younger workers locally. They've established a training school in the factory to teach tailoring skills, and thus younger people are coming into the business.
Other brands have also requested production at their facility based on increased retailer interest in American made. By accommodating businesses that could be deemed competitors, J.A. Apparel is supporting American manufacturing in a big way. At Southwick, John Martynec relates that there are 15 different languages spoken on his factory floor, and that they teach not only tailoring skills but also English as a second language. "It's part of our Brooks Brothers culture. It's about creating good citizens and promoting the American dream."

Success in American manufacturing is a responsibility of the consumer as well. Jason Schott, chief operating officer for Schott NYC (celebrating its 100th year anniversary this year) explains the distinction between the heritage Americana fashion trend and the true concept of made in America, "The Americana trend started with legitimate heritage brands, but lately some have stolen the heritage identity by simply reinventing brands that existed a hundred years ago. It may be heritage-inspired product, but it's not made in this country."
The distinction is sorting out brands that provide real jobs in real American factories and the ones that are heritage in name only.

Menswear retailing magazine, MR (January 2013 issue) was a great source in writing this article. Also visit MRketplace.com for more on American manufacturing and fashion.