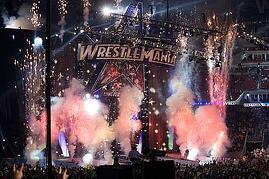 Every year, when the time is right, fans of all ages make their way to a highly anticipated sporting event. No matter if it's the Superbowl, the Final Four, WrestleMania, or the World Cup, one thing is for certain, there will be a large crowd in attendance. Although each event is different in almost every way, there will be at least one guaranteed similarity; promotional t-shirt sales.
Promotional t-shirts sell like wildfire at sporting events. Why? Because people want a souvenir to remind them of the great and possibly once in a lifetime experience that they had.
For example, an event that occured a year-and-a-half ago, which called for over 25,000 screen printed shirts, was the WWE WrestleMania tournament. However, each of the 25,000 prints were not the exact same. Though people want to buy a shirt at these types of events, they also want a few options to choose from. This results in shirts being printed for each individual wrestler; such as The Undertaker, Shawn Michaels, Triple H, John Cena, Edge, and The Outlaw. Shirts simply promoting the tournament were also printed, giving the fans the choice to choose between their favorite wrestler's shirt or a tee featuring the whole event.
Most of these promotional t-shirts are printed at a high quality decorated apparel manufacturing company, providing the fans with a long lasting take-away. And the next time that you're asked where you were when the The Undertaker defeated Triple H to extend his WrestleMania win streak to 19-0, you can look at your shirt and say "I was there".
Photo by: Eschipul