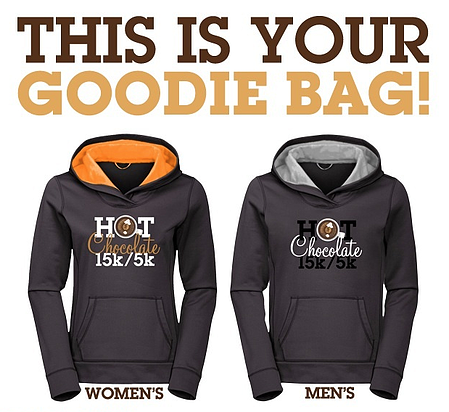 Sharprint Associated Press reports 84% of people who receive promotional items can identify the advertiser. Granted, 84% is a pretty high percentage, but wouldn't you rather shoot for 100%? And instead of just being able to identify you, wouldn't you rather they become a customer?The best case results scenario for your advertising, marketing, and promotional efforts would be that your brand is synonymous with your product or service -- Vaseline (petroleum jelly), Kleenex (facial tissue), or Speedo (skimpy swim trunks) are a few examples. Sure, there may be some Tipping Point factors contributed to the success of brands, but there are some strategies you can employ to make your promotional items more poignant.
Quality
One of the most remarkable promotional giveaways I've come across is the hoodie in the Hot Chocolate 15/5K goodie bag. One important reason for this is the quality of the garment. It's a high quality, stylish hoodie, not the cheapest hoodie on the market.

The selection of t-shirts, hoodies, and other apparel has vastly expanded in the last 5 plus years. This wider variety is evident in retail markets and consumers are savvy to the options. Although most people won't know what the singles count is on their favorite tee, they know what feels good, looks good, and what they like to wear. Most consumers can spot a cheap tee a mile away. When you give away something with your name on it - to people you would like to be your customers - the product speaks about your business and what you have to offer your clients.

A high quality hoodie may be more than your giveaway budget allows. Instead of giving away cheaper hoodies, be creative and come up with a useful, desirable product that you can supply in good quality. Alternates to a race hoodie may be a water bottle or key pouch.
Relevance
The concept of promotional products working as mobile billboards is most effective when the products actually function in an environment where your potential customers will be active. For example, the Hot Chocolate 15/5K race is sponsored in part by Running Away Multisport - a store that sells athletic gear. The racers may wear the hoodie at the event and they are also likely to wear the hoodie during regular runs, to the gym, and during other working-out type activities. The folks wearing the hoodie are likely to be wearing other athletic gear are will be surrounded by people who would likely buy athletic gear.

A hoodie might be less effective for an IT profession or computer consultant, for example. A screen cloth to remove prints from computer monitors may be a more appropriate for this industry and would make a great giveaway at any event for technology based industries.
Subtlety
Don't knock people over the head with your logo. Although you want to make your brand known through promotional items, people are less likely to use a product plastered with your logo, unless they're already a fan. The Hot Chocolate 15/5k is a well known race and people are proud to tell every one that they have participated, but notice how the Running Away Multisport logo is smaller and not the main focus of the promotional hoodie.
Word of mouth is still the most effective form of marketing. A cool, useful item is likely to spark a conversation that can communicate your brand more effectively than a huge logo plastered on shirt sitting at the bottom of a drawer.