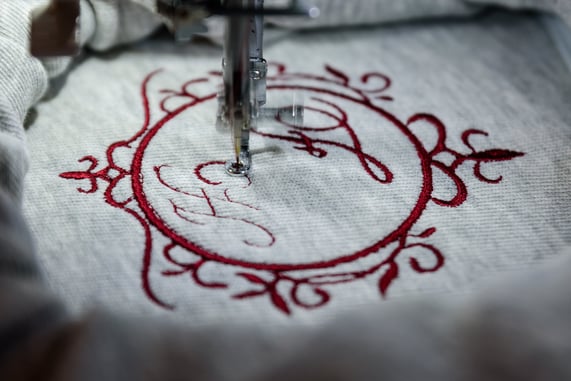 Adding custom embroidery to your company's uniforms can make your brand look more sophisticated, secure, and established. Embroidery can give your organization a higher perceived value, and companies that take the extra attention to make their uniforms refined, embody an air of good reputation and respectability.
Don't blend in with other businesses; make it a point to make your business stand out. Here are a few reasons how custom embroidery can help promote your business.
Advertisement
An embroidered shirt is essentially a walking billboard. Instead of your employees wearing solid colored button down shirts or plain polos, consider the statement it would make to have your logo embroidered on the front of the shirt, or an applique on the back of the shirt. It really makes a statement.
It Looks Professional
Add a one-of-a-kind custom touch with your custom embroidery. Logos look great when custom embroidered, and the quality of the embroidery will raise the bar on your employee's uniforms. It just looks classy to have that personalized embroidery on the shirts. So if you are interested in personalizing shirts, and you're torn between screen printing and custom embroidery, you can either try both or simply stick with the classic embroidery technique. If you're not sure about what fabrics or garments will look best when custom embroidered, ask an expert.
It Differentiates You From Other Businesses
When you're promoting your business, it pays to be unique, so take that extra step to come up with a solid embroidered strategy. Embroidered aprons and hats are good examples of an all-over polished and professional look for your employees. The overall look can make your business look professional and refined.
You Can Create Your Own Logo or Theme
Usually custom created by expert digitizers, logos give your company the opportunity to be recognized and branded. There are a few ways to make your logos look more unique, such as using gradient embroidery or specialty thread. Customize your logo and give your brand the recognition it deserves.
It's Flexible
You may think if you use custom embroidery, you'll be restricted to certain types of material. This isn't true at all. When you are using custom embroidery, you can choose between cotton, denim, track jackets, fleece sweatshirts and even aprons or hats. Certain types of embroidery work better on certain materials, so check with an expert when you're in the idea phase of your project.
You Can Personalize It
With embroidered letters, you can add names to the front of your shirt so customers can be on a more personal first name basis with your employees. This can be great with customer service, while also helping make a good first impression with your customers. Whether a waiter, plumber or restaurant manager, it looks clean and respectable.
Plenty of Experts
When you're choosing a custom embroiderer, think about what your needs are. Many decorated apparel manufacturers can provide you with many options, attentive customer service, and a quick turnaround. Decorated apparel manufacturers can offer many types of colors, lettering and fabric choices for your business's custom embroidered logo. They can also handle any other promotional items you might need for your company; such as hats, jackets, bags or embroidered blankets.