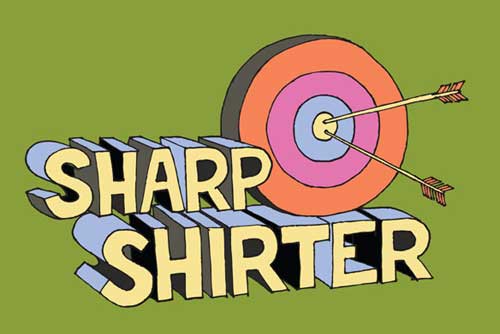 We had the great fortune of starting to print for Dan Lachman of Sharp Shirter back in 2008. We see a lot of apparel lines that fizzle out or never really hit. Sharp Shirter is a real success story and we've been cheering Dan on as we've watched his line flourish over the years. He's a truly genuine person and super smart dude with great taste and a passion for what he does. It's truly an honor to print for him. I asked him if he wouldn't mind doing an interview for us and maybe share some secrets of his success for those just getting started. Of course, he was happy to oblige :)
1. WHAT'S YOUR FAVORITE COLOR?
Purple
2. HOW DID YOU GET STARTED IN THE APPAREL INDUSTRY?
My dad told me to apply myself. I had just finished the worst summer job ever being a camp counselor and decided I never wanted to work for anyone again.
3. WHAT WAS THE INSPIRATION FOR CREATING A LINE AROUND THE RELATIONSHIP BETWEEN ANIMALS AND HUMANS?
There wasn't any focus when the line started. I would make whatever t-shirts came to mind. As soon as our Haymaker design was released, the company took off. Slowly I began to see that our customers were partial to designs with animals and I built on the whole animal vs human theme that started with the Haymaker. As I delved into the theme I realized that the relationship between animals & humans is really interesting. We have some animals that we hunt, others that we protect, some we own and some we wear. Similarly, animals view humans in a number of ways. Some are fascinated while others are fearful.
4. WHAT IS THE MOST CHALLENGING PART OF RUNNING AN APPAREL BUSINESS? HOW DO YOU APPROACH ROADBLOCKS AND/OR OBSTACLES?
The most challenging part of the business is definitely finding a routine/schedule to live by. When I graduated from college in '09, I thought the transition would be smooth from selling from my dorm room to a full-time career. Instead, I discovered that my entire life up until graduation was filled with structure. Even during summer vacation I knew in the back of my head that school was just around the corner. When that next step was removed every day felt like a perpetual Sunday with an open schedule of things that I could do but didn't have anyone saying I should do.
After about a year I started a number of activities that helped me to create a structure.
I adopted a puggle, so 2 walks a day became a standard.
I started a morning workout regiment to help me feel productive and rejuvenated for afternoon work.
I began meditating twice a day. Transcendental mediation has truly helped ground me and focus my energies on the big picture. I no longer get upset over the small things in life.
5. WHAT ADVICE WOULD YOU GIVE TO SOMEONE WITH A DREAM OF HAVING THEIR OWN APPAREL LINE?
Start as young as possible. There are always a dozen excuses of why you'll start later. You just need to jump in and see where it takes you. Try and have about $3,000 ready to pump into the project.
Go slow. You might think you have a dynamite idea that everyone will want to buy but until you truly know your customers, save your money. Start by printing the smallest amount of items you can to test the market. You can always make more once it takes off. I made the mistake of going in too fast with my early designs and got stuck with a couple hundred crap designs in the basement. It took me a good year to get rid of them and move on.
Photo by Sharp Shirter