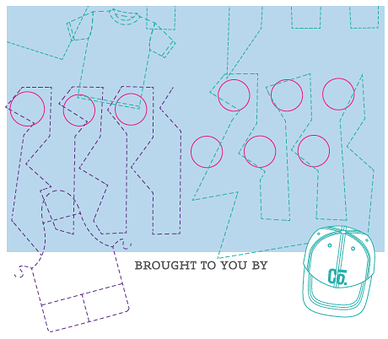 Embroidery's craft origin gives it an air of refinement, elegance, and respectability. For this reason, designers utilize embroidery for custom embellishment in many applications from functional uniforms to high fashion. Technology advances in the embroidery industry have made high quality custom garments an affordable option for even the more casual affairs like golf tournaments and trendy retail items. These days, we add versatility to list of words that describe embroidery.
Digitizing Your Artwork
In general, the embroidery art department can accept any type of artwork you provide right down to a sketch on a napkin. The important thing to remember is this: the better the art, the better the embroidery. The process for converting artwork to embroidery is called digitizing and the artists that do it are called - you guessed it - digitizers.
Basically, digitizing is redrawing a logo or design as stitches in a special embroidery software program designed to do just that. Cleaner, more exact digital files allow the digitizer to be more exact with the stitch placement. The stitch instructions are saved to a disk by a digitizer. An operator takes the disk and inserts it into the embroidery machine, which reads the instructions.
Choosing Your File Formats
The ideal file formats are either Adobe Illustrator files (ai, eps, pdf) or high resolution Adobe Photoshop files (psd, eps, tiff, jpg). Chances are, the digitizer can work with any other file type, Microsoft Word, for example, but there will likely be art fees incurred in order to redraw or re-create the image so the image can be cleanly digitized.
If your artwork involves lettering, you'll want to be sure the smallest letter is at least 1/4" tall. Smaller lettering will look messy or squashed. Super fine detail often does not translate well to embroidery. This can really only be assessed on a case by case basis. Should you have any questions about how well your logo or design will sew, just ask your sales representative. Embroidery experts can help you make adjustments to maintain the integrity of your image or logo while improving the quality of embroidery.