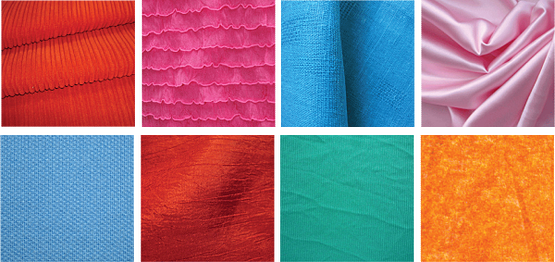 There's a wide variety of apparel fabrics available for decoration. Screen print, embroidery, and direct to garment are all common types of decoration for promotional and retail garments. This article covers the basics without getting into the nuances of eco-friendly and sustainable apparel options.
100% Cotton - Natural. Breaths well but does not dry quickly. Resists pilling. Tends to wrinkle and/or shrink.
Ring Spun and Combed Cotton - Natural cotton fiber that has been processed or spun creating a much softer feel and extended durability.
Polyester - Synthetic. Wrinkle and stain resistant. Holds shape and color. Durable. Garment feel is less popular than cotton.
Spun Polyester - Synthetic fiber with a much softer feel.
Jersey - Knitted instead of woven. Soft and breathable. Slight stretch. Softens with washing.
Microfiber - Synthetic. Ultra soft, lightweight and breathable.
Broadcloth - Tightly woven fabric with crosswise rib - similar to poplin but finer. Cotton or cotton/poly blends like a traditional dress shirt.
Pinpoint - Cotton or cotton/poly blends woven with two-over-one-under stitching. Soft and durable. Pinpoint oxford, for example, has a much softer finish.
Pique - Knit fabric characterized by raised cords or ribs in an all over waffle, honeycomb, or diamond patter. Popular for polo or golf shirts.
Poplin - Cotton or cotton/poly blends. A tightly woven plain weave fabric with criss-crossing ribs.
Rayon - Synthetic. Excellent softness and drape like silk. Absorbent. Tends to wrinkle and shrink.
Satin - Synthetic polyester fabric with silky, shiny finish. Dry clean only.
Twill - Cotton or cotton/poly blends. Woven with distinct diagonal lines on the face. Strong and durable.
Spandex - Super stretchy. Retains shape. Resistant to washing and perspiration.
Yarn Dyed - Yarns are dyed before the fabric is woven. Extended color brightness and improved softness.
Sueded Fleece - Fleece that is finished with a gentle sanding. Soft and luxurious.
Prewashed/Preshrunk - Fabric has been washed or treated before construction to prevent shrinking.
Stain Resistant/Stain Release - Fabric has been treated to resist stains or release stains when washed.
Moisture Wicking - Draws moisture away from the skin to be quickly evaporated.
Anti-Microbial - Treated or natural benefit of the material (such as bamboo) to reduce odor causing bacteria.