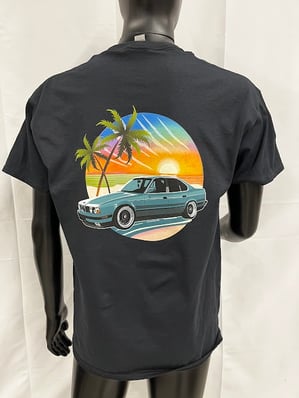 Before you purchase something, you probably want to make sure you know what you're getting, right? The case is the same for decorated apparel too of course! Most decorators will provide a virtual proof for review and final approval before beginning production on any order. This gives you a chance to review the details of a decoration before it is applied to your blank items, and makes sure both parties are on the same page. However, as good as virtual proof is, you may still want to get an even better understanding of exactly how your custom apparel is going to turn out, and that's where pre-production samples come into play.
A pre-production sample is exactly what it sounds like - a sample that is provided prior to a full order being started. This sampling process can be invaluable especially on very high volume orders when it's imperative that everyone's expectations are matched to a "t". Even on smaller orders, if the design is somewhat complex or a specialty print, you and your decorator may want to go ahead and run some samples to make sure that you're zeroed in on the exact result you and / or your client desire. There are two main categories of pre-production samples, and we'll be covering both ahead.
Pre-Production Photos
Especially useful when a quick turn time is needed, a photo pre-pro allows you to see a decorated item, without having to wait for it to be shipped out and delivered to you or your client. Usually, the decorator will coordinate with you regarding a certain time ahead of production to let you know when to expect the photo. The first item on a run will be decorated as agreed upon on the virtual proof, and then the job is stopped while the photo is sent over for review.
Ideally, the photo ends up being approved, the sampling process is a success, and the job can continue being run as-is!
If changes need to be made, the decorator will work with their production and / or art team depending on what changes the feedback may entail, and send photos of the updated decoration until everyone is on board with the appearance of the final product.
The reason the coordination aspect is so important, is that while waiting for feedback, the machine or press is kept idle - if no feedback or approval is given within a reasonable time, the decorator may need to break down that job and move on to the next one.
Printed & Shipped Physical Pre-Pro Samples
Although photo pre-pros are effective and convenient, nothing can truly beat the surety of having something in your hands, seen with your eyes instead of through a monitor! This is where physical samples have their place.
Most likely, you'll receive a virtual proof from your decorator and once that part is agreed upon, a physical sample can be scheduled. Your decorator will apply the designs as specified to a blank garment, so that it can be shipped out to the desired recipient for their review.
It's a good idea to ask your decorator not to print just one sample, but perhaps two or three - this way, one or two samples can be shipped out, and the third can be kept with the decorator. Assuming the sample gets approved, they then have a reference to match exactly for the full production run, so that it is consistent with the samples.
Although the physical sample process is a little bit more involved and takes a little bit more time, it is especially important to consider for high-volume orders. Some decorators may even specifically recommend this on them, and many may waive any associated charges depending on the order size.