Art Requirements
The basic art requirements for AOP are the same as regular screen printing in terms of file size and format:
Raster art files must have been created at a minimum of 150 dpi at the size the image will print.
Vector art files should have all fonts converted to outlines or the font supplied separately.
For designs using a mix of raster and vector components, supply the final file with support files included in their original format.
Maximum print size is 42" x 34"
With this in mind, there are three styles of design for an all over print t shirt that have proven to produce the best quality prints.
One Color Patterns
Some of the most successful AOPs are single color patterns. Use a small company logo or iconic graphic element in a step-and-repeat pattern for a clean and simple AOP. Be sure to use enough spacing to avoid most seams and collars. Printing in tonal colors lessens the visibility of any print imperfections.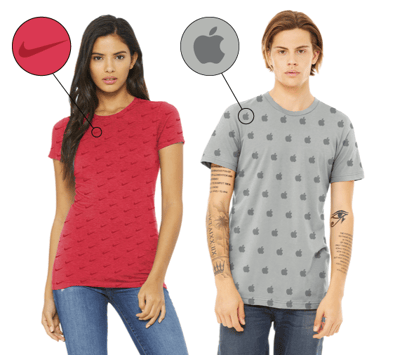 Illustrative and distressed artwork also work well as one color patterns. The irregular nature of these art styles hides naturally occurring print imperfections.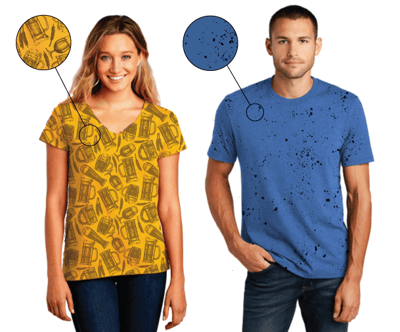 Multi-Color With Relaxed Registration
In most cases, multi color artwork is not suited for all over screen printing. As mentioned, the shirt will move slightly after each print color, so any artwork that relies on colors falling exactly next to each other doesn't work well as an AOP. A great example of multi-color art that will not work as AOP is this piece by Roy Lichtenstein. The style of design is considered tight registration.
The Lichtenstein artwork also uses large solid fill areas. Large solid fill areas show off any print imperfections due to seams, collars, and natural garment folds instead of hiding them.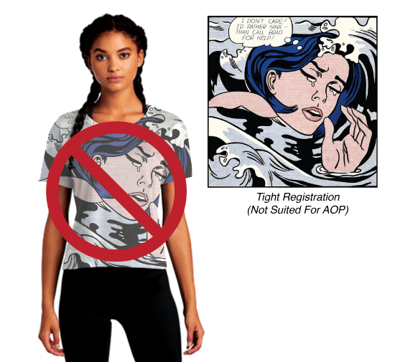 Artwork that does not rely on colors printed with exact placement is considered relaxed or loose registration. A great example of multi-color art that will work as AOP is this piece by Word To Mother. The printed colors can shift around without being too noticeable and the illustrative style will hide any print imperfections that occur.
AOP Plus
If you are interested in using a full color graphic as an all over print, but your graphic is tightly registered, AOP plus may be a solution. AOP plus incorporates a 1 color all over print with a second standard imprint location that can be printed in full color for maximum impact.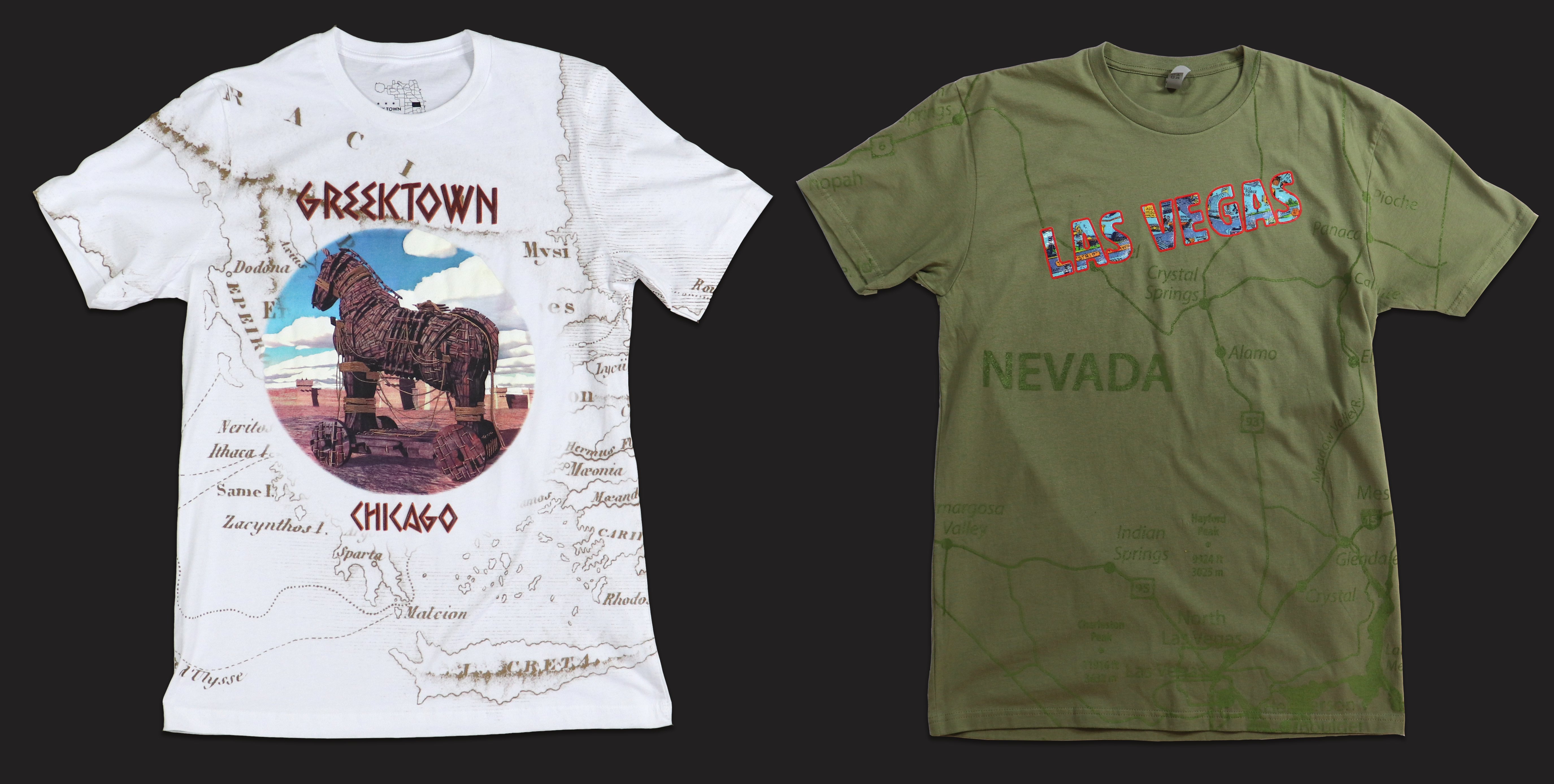 BONUS! Did you notice the printer in the first video is loading pre-printed shirts? He is adding a full front to a 1/c all over print for an AOP Plus. The t-shirt designs above also feature other specialty applications including high density, puff, and special effects clear.
Art Tips For Designing An all over Screen Print
Avoid large fill areas.
Print in tonal inks.
Avoid printing light inks on darker colored t-shirts.
Use illustration and distress instead of clean vectors.
Avoid printing over seams & collars.
Use designs with loosely registered colors.
Consult your decorator and be prepared to make adjustments to the design for better printing.
There will always be imperfections when printing over seams, collars and folds. The secret of how to make fabulous all over print shirts is hiding or minimizing the imperfections that occur.
Artwork Sizing
Different presses have different maximum size capabilities and this should be taken into consideration when designing art for an all over print.
Max size for 1 color AOPs: 42"w x 34"h
Max size for multi-color AOPs: 39"w x 28"h
Using the chart below, you can visualize how the largest print size will look on various standard garments.