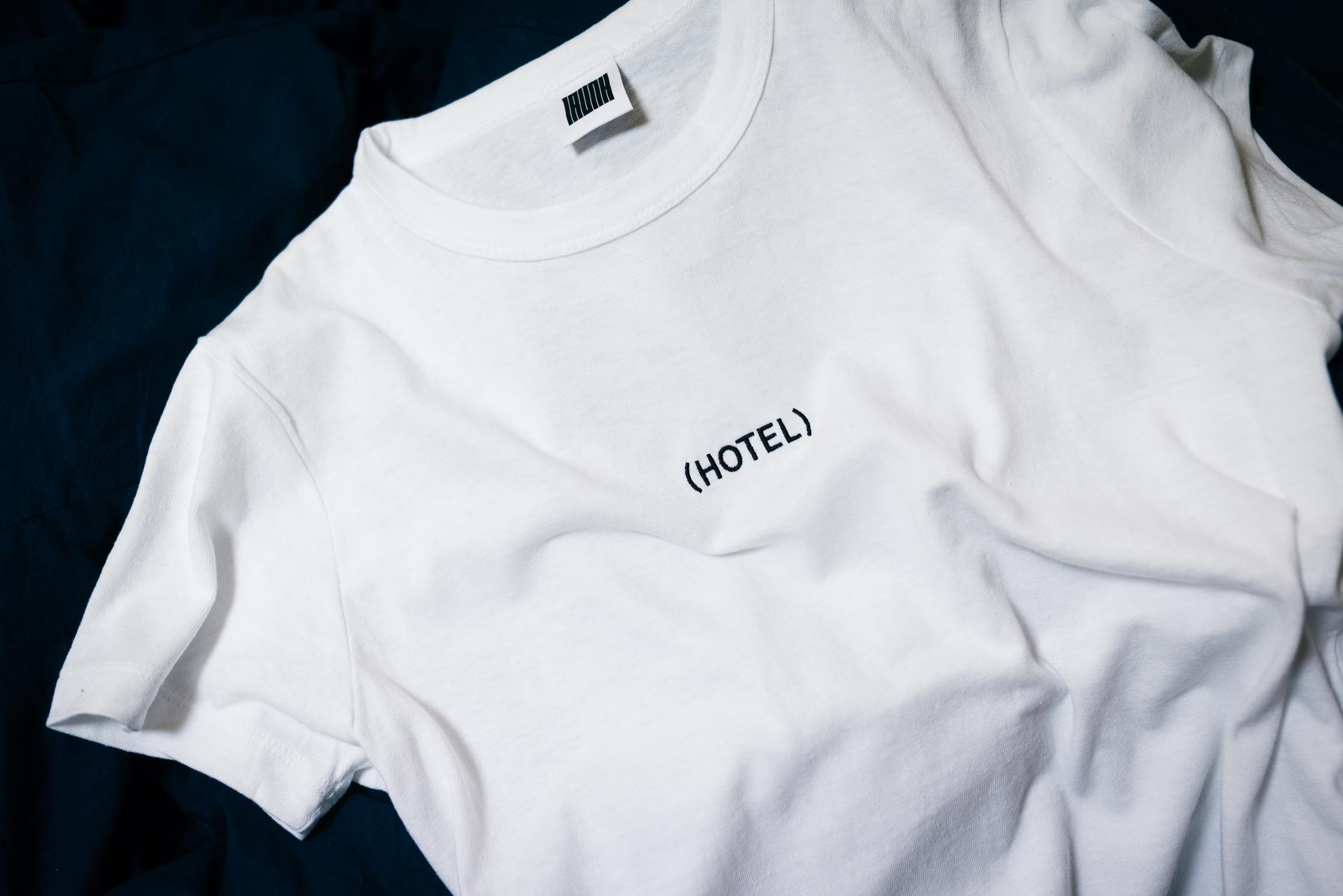 Contents:
1.What Are Brand Labels
2.How Labels Can Help Your Brand
3.Various Types Of Labels
4.How to Use & Attach Labels
5.Get Help Creating Your Brand Labels

Check out our guide to learn everything you need to know about labels for your brand!

What Are Brand Labels?
A brand name normally is a little piece of fabric highlighting your organization, most regularly found on clothing brands, but can be used for a wide range of other products. Labels may incorporate something basic like a logo or some phrasing, or you might need to have more data on there such as a website, a slogan, washing directions or more.

Labels allow brands to express their unique identity and make products stand out! Standard label sizes are typically between 20mm-70mm depending on your needs. The more content you put on the label will determine how large your label needs to be and will increase your overall production costs.

If you would like advice on how to size your labels feel free to contact us here! Our team manufactures labels for many purposes and will definitely make your products stand out.

How Labels Can Help Your Brand?
Custom brand labels give your product a clear identity that defines it from other available products on the market. The identity of your brand is the most important thing to consider when designing your products. Who are you? What do you do? What is your business ethos? Who is your target audience? The answers to these questions can be expressed in your custom brand logo and description.

When you customize your labels, it gives your product a clear identity that separates it from other products on the market. Your brand identity is one of the most important things to consider when creating your products.

Your brand is what will convince customers that your products are the ones they want. The best way to visually express your brand identity on apparel is with labels. Without brand labels products tend to look inexpensive and unprofessional. Choosing to use custom labels is a great benefit to your brand because they help you stand out from the crowd and make your product easily identifiable.

Here are some ways you can use custom brand labels for apparel & garments:

Packaging: Packaging can really enhance your customer's experience. You can use your labels for all kinds of packaging and which can really make your brand memorable. Think of creative ways to send out your products by leveraging, paper bags, plastic containers, bottles, packets, jars, boxes… the options are endless!

Garments: Attaching a kind of label is very important for garments (also known as clothing labels) people need to know the size and care instructions. However clothing labels don't have to be boring. Use your brand identity to create an interesting brand label that makes people want to wear your clothes!

Labels for garments (clothing labels) are very important because your customers need to know how to wash and care for these items. These don't have to be boring though. Add some creativity to these labels (customers will notice).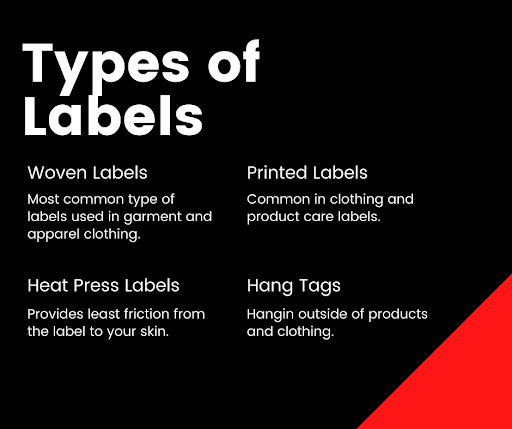 Various Types of Labels

It is important to understand the different types of labels so that you choose the best one for your product. The main thing to keep in mind when choosing a label type is the simplicity of your design. If your design has too much detail then some label types won't be suitable. These are the differences in label types:

Understanding the different types of labels is important so that you choose the right one for your products. When choosing a type of label, think about the detail of your design as some designs simply will not work or make sense on a smaller scale.

Printed Labels
These are the most common types of labels inside of clothing. Printed labels typically contain size and care information, but can also contain brand logo, quotes, etc.

Heat Press Labels
Heat press labels create the least amount of friction between the material and your skin, which makes them the most popular label choice for sportswear. The main issue that arises with heat press labels is that the color can sometimes rub off over a long period of time due to the direct contact with skin.

Heat press labels are a common choice for sportswear due to having minimal friction between the material and your skin. However, the color of these labels can fade over time due to direct contact with skin.

Woven Labels
Woven labels are another common type of label used for clothing and garments. High-end designers use these types of labels because of their durability, quality and they last a very long time.

Hang Tags
Hang tags are what customers first look at when deciding on whether to purchase your product or not. They hang from a string and are larger than labels directly attached to products. Hang tags contain information such as price, the type of material used, manufacturer information, logo and more.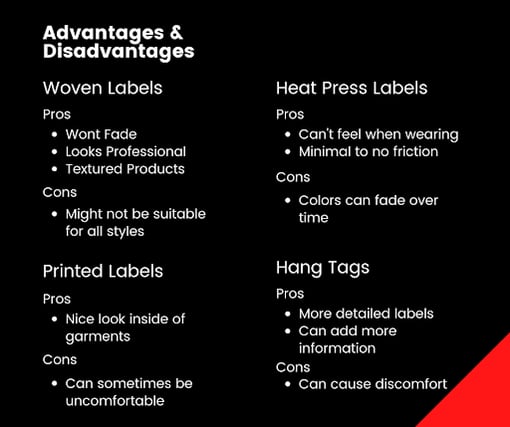 Get Help Creating Your Brand Labels
If you're looking for premium quality labels for your brand, schedule a call today to get started!