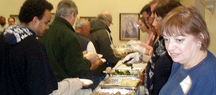 It is important to support those less fortunate than ourselves throughout the year, however the holiday season tends to remind us in a poignant way. As we share gifts and gatherings with our family and friends, we realize the true extent of how fortunate we really are. With so many organizations in need of your support, we wanted to let you know about a local organization you may not know about -- The Chicago Help Initiative.
"The Chicago Help Initiative (CHI) is a consortium of business, residential, religious, social service, institutional and volunteer leaders striving to promote an atmosphere of dignity and compassion toward those in need by providing access to food, health services, shelter and employment. CHI works to educate local businesses and residents as to how they can help ease the plight of the homeless, disadvantaged and out of work individuals and improve their well-being, self esteem and productivity."
One of their yearly projects is a Holiday Gift Bag in which guests receive winter clothing including hats, gloves, scarves, sweatshirts, socks, t-shirts, as well as toiletries, food items, other necessities and gift certificates from supermarkets. If you are interested in contributing or donating items to the project, please contact Jacqueline C. Hayes via email jhayes@chicagohelpinitiative.org. You may be helping make things a little easier for some one you see every day.