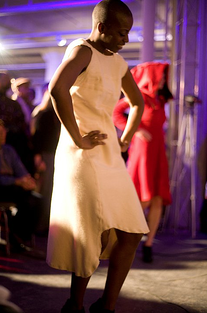 "Elevation III: The Gathering"
is an all star, interdisciplinary art experience featuring the fashion design of Sharprint's own
Agnieszka Kulon
. This not-to-be-missed event showcases the improvised conduction of Jazz legend
Kahil El Zabar
with his experimental band that features Corey Wilkes, Ernest Khabeer Dawkins, Junius Paul, Robert Baabe Irving III, and special guest, legendary vocalist Dwight Trible.
The "Gathering" also presents a one night only large installation created by the award winning sculptor and designer
Lucy Slivinski
plus a choreographed fashion salon created by Katrin Schnabl and Agnieska Kulon. There will be live painting with Zore and
Andre Guichard
, video installation by Stoptime341 directed by Chris Andrew, music by DJs Ron Trent and Brian Reaves.
SenseCulture.com
(the ultimate destination for online curated experiences), the Zhou B Art Center (the internationally-acclaimed creative art space), and Colab (the premier interdisciplinary arts collective) are all proud to be the host of Elevation/Chicago 2012. Elevation is artistic history created in the moment as a one time only event.
Check out the video from last year's event for a glimpse of the experience to be had:
$30 donation at the door
$20 in advance at
www.senseculture.com/elevation
November 16, 2012
Zhou B Art Center
1029 W. 35th Street, Chicago