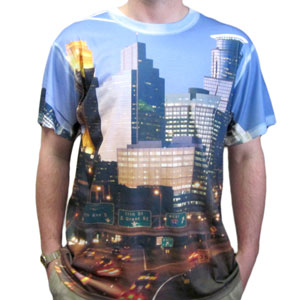 At the recent Long Beach ISS show there was a noticeable emphasis on dye sublimation printing. It is quickly becoming the favorite way to achieve all-over prints on t-shirts - even if you only want a few. Sublimation printing on t-shirts has a unique look that is different from screen print and tends to produce a lighter feeling result on the tee.
Advantages of dye-sublimation over other methods of textile printing:
Images are permanent and do not peel or fade.
Dye does not build up on the fabric.
Colors can be are extraordinarily brilliant due to the bonding of the dye to the transparent fibers of the synthetic fabric.
Truly continuous tones can be achieved that are equivalent to photographs, without the use special techniques such as half-tone screen printing.
The image can be printed all over the entire item, with no difficulty in printing all the way to the edges.
Disadvantages:
The printer speed is slow.
Any creases in the apparel during printing leave blank spots behind, although this is an accepted quality issue with all-over screen printing.
Garments must be 100% white polyester
Depending on the desired result you can have some fun printing on light colored tees or polyester blends for some cool affects.
Contact us for more info on all-over printing!