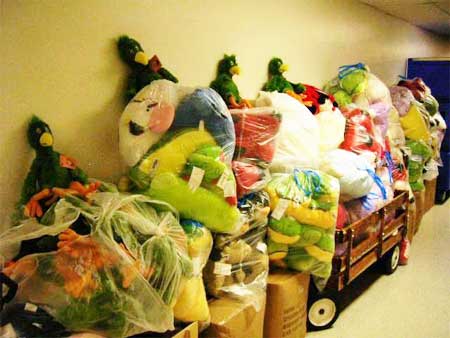 About 2 months ago, Sharprint's heart was touched by the story of a young boy named Jacob McConahay and his quest to bring happiness to sick and suffering children. After receiving joy and comfort from a pillow pet given to him from his Aunt, Jake set a goal to provide all of his friends at the Riley Hospital with a pillow pet of their own. Jake didn't end his journey once he reached his goal, but instead raised the bar and set out on a new mission to collect 1 million pillow pets to give to children all over the world.
We wanted to help Jake achieve his goal, so we set out to collect pillow pets to be donated to the Children's Memorial Hospital in Chicago. The next thing we knew, pillow pets were coming in left and right!!
We at Sharprint would like to thank our wonderful employees, families, and friends who helped contribute over 400 pillow pets. The children were thrilled to receive a pillow pet to call their own and every single one of you helped put a smile on the face of a young boy or girl.
Terry Spence, the Sr. Development Officer of the Children's Memorial Foundation, helped distribute the pillow pets to the children and expressed her gratitude to those who helped make a difference in the lives of so many boys and girls in the form of a letter. We would like to share what Terry had to say, because we couldn't have done it without all of your help!
"It was such a great pleasure meeting you today and having the opportunity to help you unload the many pillow pets received from the 1st Inaugural Pillow Pet Drive in honor of Jake. On behalf of Children's Memorial Hospital, thank you.
Your hard work and dedication have placed many smiles on the faces of children at Children's Memorial. Your donation will help calm the nerves of a child that has to face a chemo treatment, a needle prick or just in need of something to hold on to when they are unable to sleep.
Continue to dream big with us and witness the change of health care for this generation and future generations to come. Thank you for being the heroes for the children and families at Children's Memorial.
Your support means so much!"
Thank you again for helping us help Jake. You have truly made a difference in the lives of many children.