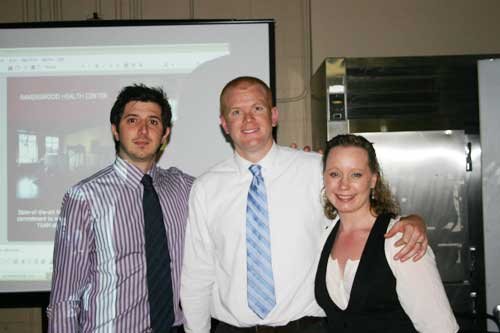 "Never regret getting older, it's a privilege denied to many"
Dr. Jason Fennema of Ravenswood Health Center preaches these words and is passionate about educating people on the importance of health. Ravenswood Health Center attends summer festivals to spread their knowledge on such an important subject that many people over-look. They have recently decided to take their actions a step further and have begun to hold lectures at local companies and business.
Today, Sharprint was graced with the presence of Dr. Jason Fennema, Dr. Sam Ahmadi, and Santana Hutchinson. They gave 2 lectures, back to back, assuring that every Sharprint employee would be able to attend one or the other. Ravenswood Health Center was generous enough to provide us with plenty of healthy Subway sandwiches, apples, oranges, and bottled water. To help achieve their goal of making sure that everyone walked out with a bit of new knowledge, employees were given a handout that provided quality information on the spinal column and nervous system.
Aside from the handout, we would like to share some of the other valuable information that was passed on to the Sharprint family.
#1 & #2 Killers in America
Heart Disease
Cancer
Many of these deaths could have been prevented by better health habits.
#1 & #2 Disablers of Americans
Smoking
Type 2 Diabetes
People who do not maintain a healthy lifestyle end up spending a large sum of money on health-care.
50% of all bankruptcies in America result from the inability to pay for medical bills.
Here is a fact that might paint a better picture on just how unhealthy America is becoming: Starbucks spends more money on their employee's Health Insurance than they do on coffee beans.
Stress is a Silent Killer
3 Sources

Emotional (anxiety, money, health)
Physical (poor posture, lack of exercise)
Chemical (fast-food, soda)

3 Stages

Alarm (stress identifier)
Resistance (body begins to try to adapt)
Exhaustion (body is unable to maintain function)
Staying Active
Light Workout: 5 days a week – 30 minutes each day.
Moderate Workout: 3 days a week – 30 minutes each day.
Early morning workouts are the best time to burn fat.
Eating Habits
5 small meals a day
A whole hearted breakfast to follow an early workout is key
Eat colors that come from the ground. They are filled with phytochemicals (reds, greens, and oranges)
"One should eat to live, not live to eat." – Socrates
Get Some Sleep
7 hours of sleep per night is recommended
No caffeine after 4pm
Don't watch tv or be on your computer ½ hour prior to heading to bed
Love & Laugh
Decreases stress by as much as 75% within a 30 minute visit
Laughter increases immune response
Go out and live a healthier lifestyle and remember "never regret getting older, it's a privilege denied to many".