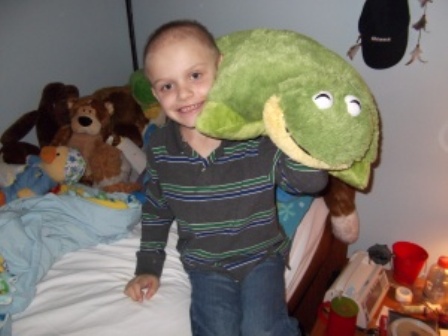 Jacob McConahay is a 7 year old boy who is battling stage 4 Alveolar Rhabdomyosarcoma. This is a very aggressive cancer that has spread from Jake's leg to other areas of his body. Jake has had and continues to receive chemo treatments, though none of the procedures have helped yet.
However, fighting his own battle with cancer isn't the number one worry on Jake's mind. After spending many hours at the Riley Hospital, Jake became focused on helping and making sure that all the other children at the hospital were happy.
After being asked by his mother, Tosha, what he thought the kids at Riley needed, Jake responded saying that every kid needed a Pillow Pet. He went on to say, "I want all my friends at Riley to have Pillow Pets because doctors sometimes have scary things to say." His mother added, "Because they don't feel like playing games or doing the artwork all the time since the chemo makes them very sick."
Jake's words and compassion for his friends have touched the hearts of many people. Thousands of Pillow Pets have been collected and donated to the Riley Hospital, putting a smile on the face of a truly amazing young man, Jake McConahay.
Jake's story has pulled on the strings of many hearts, including ours here at Sharprint. We would like to help Jake in his journey of putting a smile on the faces of all children battling an illness. We are collecting and taking Pillow Pet donations until April 15th. On Easter Sunday (April 24th), we will be delivering all the collected Pillow Pets to the Children's Memorial Hospital in Chicago.
To date we have collected over 400 Pillow Pets, but the sky is the limit and with your help every child in the Children's Memorial Hospital could be holding a Pillow Pet of their very own this Easter. What is happening to these children is an adult's worst nightmare. They didn't ask to be sick, nor do they understand the disease or the cure which makes them unbelievably tired at best. The donation of a Pillow Pet is a small cost to pay to bring a smile to a child's face. Hopefully, we all can contribute in some small way.
If you would like to donate a Pillow Pet and have Sharprint drop it off to the hospital, please contact Guy Whalon at gwhalon@sharprint.com