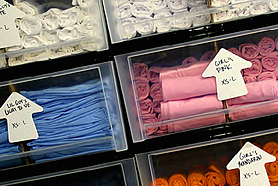 Digital printing on fabric is very similar to the way an inkjet photo printer prints on paper. There are cyan, magenta, yellow, and black (CMYK) ink jets that spray the design onto a substrate. These inks are translucent and the amount of each color that is sprayed on the material determines the end color produced.
When printing digitally, re-creating the color you see on a computer monitor is a pretty easy process, mostly because the computer does all the calculations to determine the amount of cyan, magenta, yellow, or black needed to reproduce that color. By comparison, with screen printing a highly skilled color separator selects the amount of inks that will be transferred to the garment, and how they will be layered. It is a much more labor-intensive process.
The inks used in direct-to-garment printing are water-based inks and act like any liquid when it comes to application on fabric. Any garments that have a Teflon or stain resistant coating will repel the inks used for digital printing in the same way they are designed to repel coffee, cranberry juice, or any other liquid. Many aprons, tablecloths, and work uniforms, such as in the mechanic or food service industry, are not suited for direct-to-garment printing.
Polyester and poly-blend fabrics, that are often used to make t-shirts, do not work well with digital printing. Polyester fibers are essentially plastic, and as you probably know, water is not absorbed by plastic. Even if the image is transferred to a polyester or polyester-blend garment, the ink does not set and will lose integrity when washed.
100% cotton is by far the best material to use when it comes to digital printing. However, it is important to remember that all cotton tees are not created equal. The visual quality of the print is noticeably degraded when printing on the cheaper, rougher generic tees that are available. For the best looking print, you want to stick with the smoother, softer shirts. Apparel made from ringspun cotton is a good choice.
There are other fabrics beyond cotton that can produce amazing results when printed direct-to-garment. Such fabrics include twill, canvas, silk and linen. It is highly recommended to inquire about possible testing of garments and fabric other than cotton. If the decorator does not have experience with a particular garment, complications could arise, and it's best to troubleshoot right off the bat.