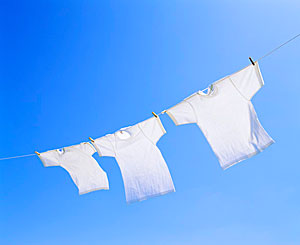 Growing consciousness surrounding the health of our planet and ourselves has had an obvious impact on the fashion and apparel industry.Organic cotton, wool, silk, and hemp are all readily available for garment manufacturing, as well as material made from sustainable sources such asbamboo, soy, tencel, and POP recycled plastic. The custom decoration industry has naturally followed suit by offering these same materials in the form of t-shirts, polos, totes, and other apparel items for screen printing and embroidery.

Screen printing or embroidering on sustainable and organic fabrics is just the start. Custom apparel companies are refining their products and processes. For example, plastisol Pantone® matching ink systems that are phthalate free have replaced the inks that were laden with potentially harmful plastics. Creative re-purposing and re-cycling of misprinted garments is another way to eliminate the senseless wasting of perfectly good apparel and keeping them out of landfills.

Eco-consciousness with apparel doesn't have to end with the purchase of a thoughtfully produced garment. In fact, a large part of a garment's impact on the environment comes from washing and drying, so it's important that we keep a green mind as we care for the apparel.
1. Wear it More Than Once Before Washing
Perhaps not undies or socks, but most clothes can stand a couple or few wearings before necessarily needing a wash. Jeans in a freezer overnight can lessen a smoky club smell and a quick once over with an iron can freshen up just about anything. (Don't iron over your screen print, though!)
2. Trade Your Machine Up
Switching to an Energy-Star rated washer can save as much as 7k gallons of water a year. To put it in perspective, that a lifetime of drinking water for 6 people. Wow.
3. Green Detergent for Green Clothes
Phosphates can lead to algal blooms that damage marine eco-systems. This can be combatted by using plant-based detergents as they are phosphate free. White vinegar in the rinse cycle can be used instead of chemical softeners. The acid in the vinegar neutralizes basic detergents which helps get the soap out of clothes.
4. Heck...Make Your Own Detergent
Homemade laundry soap can be made from ingredients found at your local grocery store. You can even create your own soap scent from your favorite smelling essential oils. Here are some recipes and tips.
5. Be Efficient
Wash on the cold cycle. Only wash full loads. If you have to wash a partial load, remember to switch the load size to small. Air dry clothes whenever possible.

If every person takes a little step, collectively we make great leaps. We're really looking at a huge difference we can make in something so small, like how and how often we wash clothes.