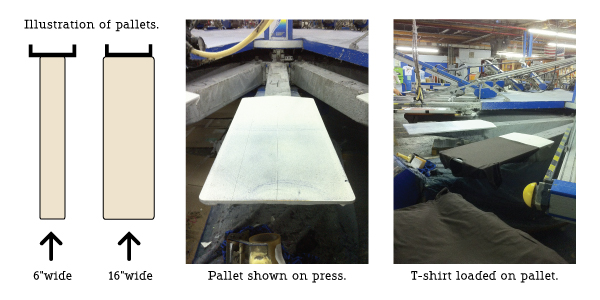 When screen printing a logo or design on apparel, it's common to order companion garments or accessories. Does a higher volume discount apply when you print different kinds of garments with the same design? If the garments are similar chances are you can have them produced all together. T-shirts and tank tops are a good example of this as long as the design, placement, and size of the design are the same. When you are printing differently types of garments chances are the orders will need to be produced separately. T-shirts and tote bags are a good example of this. Even if the design and size are the same, it's the placement of a logo or design that really determines whether or not different garment types can be produced together.

In this blog, we'll discuss the specifics about screen printing apparel and accessories to illustrate why different garments printing with the same logo must be done as separate orders.

The surface onto which a garment is placed or loaded in order to be printed is called a pallet or table. Pallets come in various sizes to facilitate the best quality and most efficient screen printing. Each set of specialized pallets can be removed and switched out for a different set. For example, sleeve pallets are 6" wide because you can't stretch a sleeve over something meant to accommodate an entire shirt. This size also lends itself to printing toddler and baby garments, along with tote pockets and other areas that are too small to be loaded on a 16" standard t-shirt pallet.
Read More