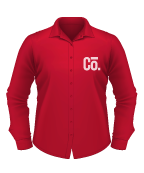 Your corporate identity is the image that you put forth to the public as a whole. This public includes customers, investors, suppliers, and even your own employees. At its core, corporate identity stems from a set of established values, beliefs, and practices that the company operates around. This isn't always easy to visualize, though, which is where tangible items like corporate apparel come into play.
What Your Apparel Says About the Company
Like it or not, the corporate apparel that you choose will send a certain message about your company. Tee shirts are casual and laid back, which is perfect for certain retail or dining establishments where customers should feel comfortable and relaxed as well. Polos are slightly more professional, but still show that your company isn't too uptight. A button down shirt with your company logo on it is sleek and professional, and shows that you're more focused on serious business matters than on fun or recreation.
There's no one right answer when it comes to corporate apparel. You simply need to consider the image that you're putting forth and choose items that keep in line with your chosen identity.
Read More